The Redwood Group
The Redwood Group specializes in supplying their customers and counterparts with physical and financial energy, grain and specialty products.  They provide value by giving liquidity across this broad range of commodities while striving to remain agile and nimble so that they can be a price-leader.  This saves their counterparts time, energy and, most importantly, money.  In our experience, The Redwood Group is attentive, responsive and dedicated; we have no doubt you'll feel the same way but don't take our word for it- we invite you to learn more about one of our stable's finest productions by visiting the The Redwood Group company website.
Data-Driven Web Development
Like many of our prospective clients, Redwood commissioned us to reboot their web-presence but they were initially unsettled by our schedule of fees, but at the end of the day, they got what they paid for, so they don't need to imagine the measurable return on investment anymore: we delivered a 55.62% increase in traffic YoY as they grew on-line and off-line (excluding all known bots and spiders).  The industry bench-mark for legitimate SEO improvement is at least 20% for an established business.
2015 Total Users: 3,547
2016 Total Users: 5,520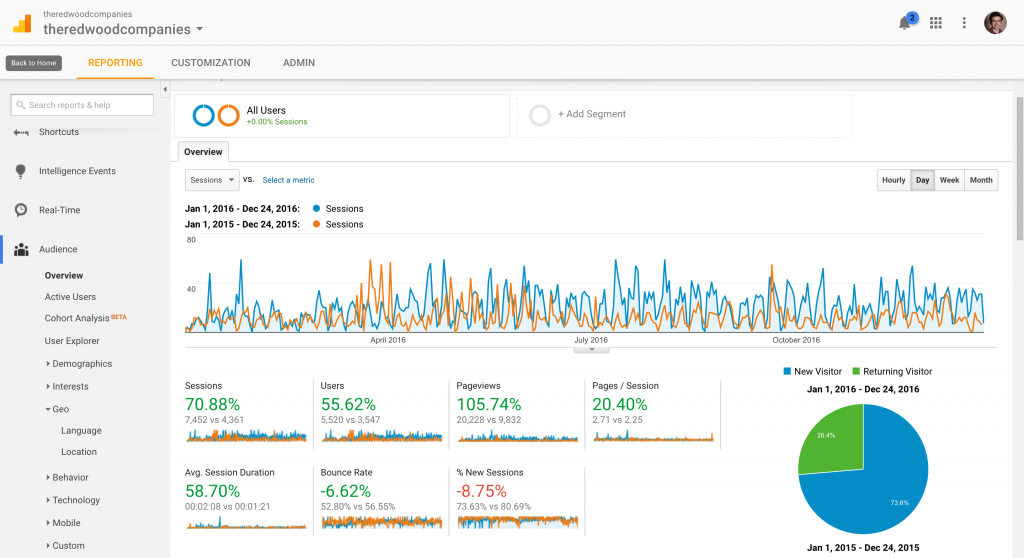 Praise from Redwood
We've routinely proven our expertise, effectiveness and our vision- and so we are thrilled to earn Redwood's contract on a complete rebuild of their company website coming in 2017, the right way, the best way: a fully-customized WordPress production built from scratch.  The President & Founder of The Redwood Group, Mike Kincaid, our second client on-book, hails our service and support:
I've known Alex and his family since we were freshmen at Rockhurst High School; he never sacrifices his best and is never one to avoid taking the high-road.  Alex is always "all-in" from his profession in web-development to academics.   As the CEO of a Kansas City agribusiness firm, I can attest to his character both personally and professionally: the Redwood Group has contracted Alex and his team at Bucephalus Web Development for web development and SEO services and they continue to deliver.
Google Virtual Tour
The Redwood Group is a Google Virtual Tour favorite at Bucephalus Web Development– have a look inside their elegant company lobby.  According to a study conducted by Google, those who view a search-result listing with a virtual tour are twice as likely to be interested in that business, purchase a product, or even book a reservation there- and among 18-34 year-olds in particular, prospects are 130% more likely to book based on a virtual tour.  Among additional people surveyed, 67% want more business listings to have virtual tours- of the remainder, 26% were indifferent, and only 7% stated that more virtual tours were unnecessary.  Just remember: when searching for restaurants and hotels online, 62% of people use Google.  Try running your business without Google for a day; we bet you can't, which means a website must be Google-friendly!  Chances are you probably consulted Google at least one time if you purchased anything within the last month- your prospective clients are probably doing the same!